Please sign in first.
Voice Broadcast
www.ferroalloynet.com: FerroAlloyNet 8th International Ti & Zr Products Summit is held on 13 March at Nanning Marriott Hotel.
Some enterprises have finished registration, such as Iluka Resources Limited, Luoyang Shuangrui Wanji Titanium Industry Co., Ltd., Jiexin Resources (Hong Kong), Guangzhou Huangpu Tiantai, Huaan Rongyi Mining, Dalian Haiyang Mining, JIANGSU GPRO GROUP, Shanghai Tuoye Electromechanical Equipment, reen Earth Solutions Pvt, Hunan Hezhong Economic & Trade Co., Ltd., Nanjing Baixinglian New Material Technology Co. LTD., MAOMING UBRIDGE GROUPE MINERAL INDUSTRY CO., LTD, C&D LOGISTICS GROUP CO., LTD, Xinjiang Xisnagchen Titanium Industry Tech Co. Ltd and so on.
At 2:00 pm, business trade begins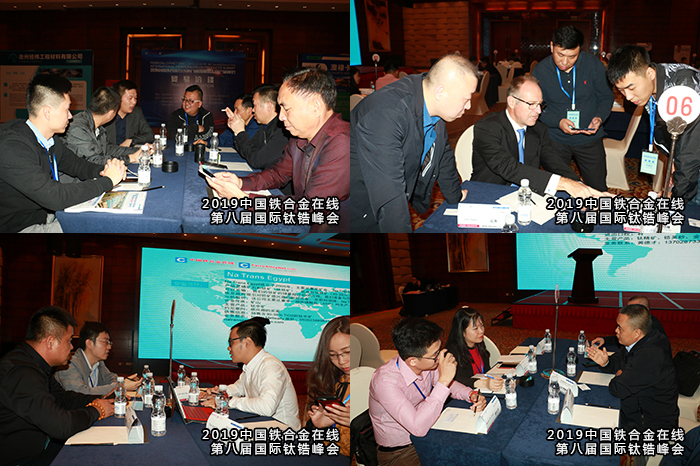 At the beginning of the year, the titanium ore, zirconium ore market seems stable, but in fact the waves, uncertain factors too much, environmental protection, government policies, economic environment, foreign trade market and others, all these factors leading us to the aftermarket always cautious. Up to now, the price of titanium dioxide market has been raised twice, titanium tetrachloride and titanium sponge market is stable, but the price of high titanium slag and reduced titanium is still falling, which indicates that the market situation of titanium system in 2019 will not be too stable. In addition, although the current zirconium silicate, zirconium oxychloride and other zirconium products market prices keep temporarily stable, the end market that being shuffled may be the biggest difficult problem in 2019 zirconium series product. Please look forward to tomorrow's wonderful topic speech.