Please sign in first.
www.ferroalloynet.com: Keynote Speech of FerroAlloyNet 13th International Chrome & Nickel Products Summit starts at 8:30 am, on 22 September 2017, industry representatives arrive at the conference site in succession, they discuss the trend of chromium and nickel in 2017.
First focus on the current macroeconomic situation, it is well known that the national economy running steadily in the first half of 2017, the present demand structure, the structure of production factors and the new changes in industrial structure have become the main features of China's development. Let's welcome Ms. Yan Min, Deputy Director from State Information Center Economic Forecasting Department Macroscopic Office makes a speech-- China's Macroeconomic Situation Under the Background of Structural Reform of Supply Side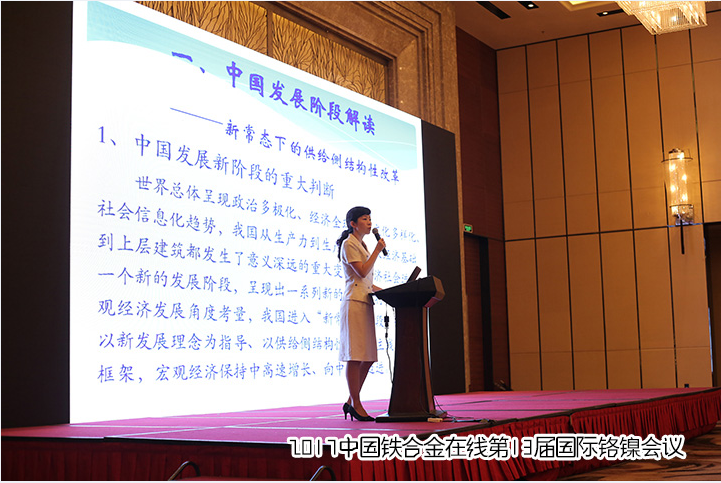 The supply of nickel ore has decreased sharply since Indonesia banned exports in 2014, which caused the monopoly of Philippines nickel mine owner and the low operation of ferronickel plants. In China, the market is seriously affected, plus the nickel price going down these years, making the China nickel market worse. This year, Indonesia relax the nickel ore export again, we can see the market participants increasing sharply. And it is expected that the Indonesia government will increase the export quotas. Let's welcome Mr. Zou Foquan, manager from Xiamen CCRE International Trade Co., Ltd makes a speech-- Review and Outlook of Ferronickel Market in 2017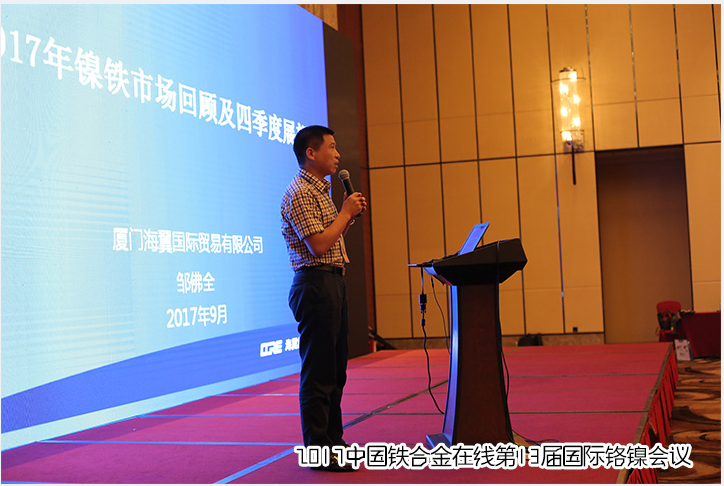 Next, we will focus on the domestic nickel supply and demand situation and future trend. GALAXY FUTURES is the first Sino-foreign joint venture in China, and the only futures company with a well-known domestic investment bank and an international commercial bank. Let's welcome Mr. Ling Kaiwei, researcher from GALAXY FUTURES makes a speech—Overview on Domestic Ferronickel Supply & Demand and Deduction on Future Trend Logic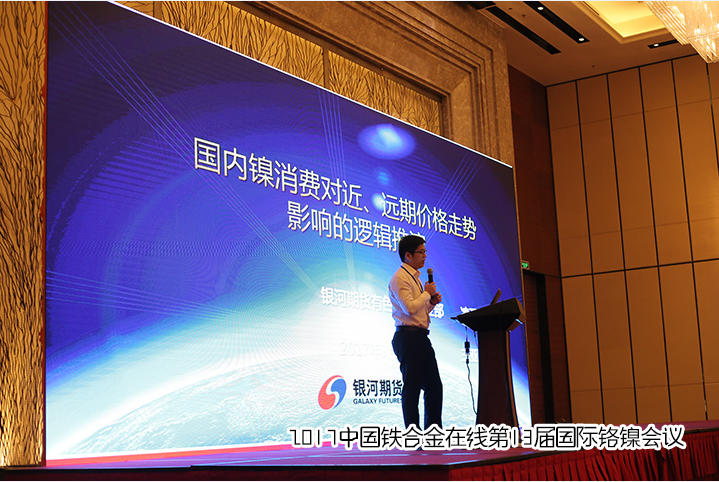 During the 10-minute tea break, representatives of the participating enterprises can communicate freely and discuss further with the speakers.
Raw Materials & Stainless Steel Industrial Chain Forum, some uests participate in this part, such as Zhu Qiming from Mingda Group, Ling Kaiwei from Galaxy Futures Co., Ltd; Lin Jun from Baosteel Stainless Steel Co., Ltd; Ding Chao from Inner Mongolia Kehan Metallurgy Co., Ltd; Zou Foquan from Xiamen CCRE International Trading Co., Ltd; Zhang Lin from FerroAlloyNet Chief Analyst for Nickel Ore; Liu Junhua from FerroAlloyNet Chief Analyst for Chrome Ore

With the continuous expansion of stainless steel capacity, the interaction between raw materials and stainless steel is becoming more and more prominent, and the supply and demand pattern of the whole industry chain becomes the focus of attention. So, the forum will focus on the hot issues related to the supply and demand pattern of the whole industry chain, which will be discussed from four aspects: 1. what are the reasons for the rebound of ferrochrome and chromite in the third quarter of 2017? How will the fourth quarter be? 2. What level of spot stock in chromium ore can effectively stabilize chromium ore price? 3. Chrome ore price ups and downs sharply, and the market health is serious. Who will pay the bill? 4. High grade ferronickel manufacturers in Inner Mongolia change the production line, whether the supply is tight, how can the demand gap be made up?

In the third quarter, the stainless steel market continues to be on the upward trend, what is the current situation and development trend of the stainless steel market? Let's welcome Mr. Lin Jun, from Baosteel Stainless Steel Co., Ltd makes a speech-- Development Trend of Stainless Steel Industry and Demand for Nickel & Chromium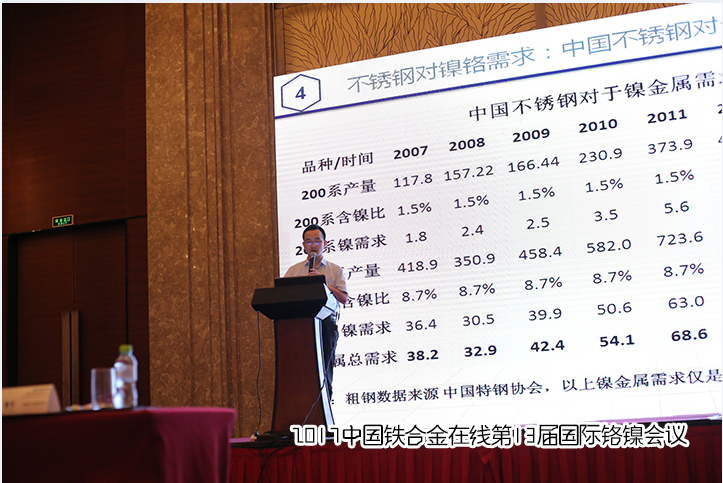 We're in the information explosion generation today, How to make decisions based on data? It has become an important reference in our business activities. Let's welcome Ms. Zhang Lin, from FerroAlloyNet makes a speech-- Nickel Products Data Review in 2017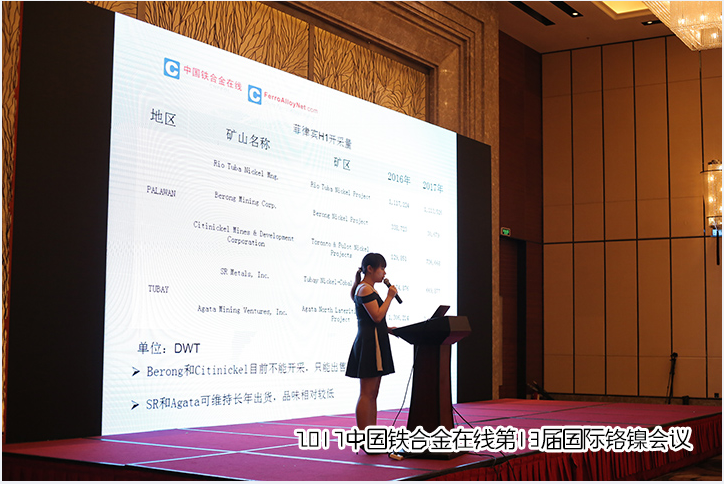 Looking at the chromite market of 2016-2017, it is not surprising that "crazy" can be used to describe the market. In the first half of 2017, the chrome ore market price is very volatile. At the beginning of June, chrome products market was weak, supported by the foreign funds and manufacturers' strong mindset of price increase, the market rebounded in Mid-June, so, whether the market price can continue to rise, and how big the space is, will be the focus of the market attention in the second quarter of 2017. Under the influence of foreign capital, chrome ore stocks at port keeps increasing, while ferrochrome manufacturers' operation remains low, how to consume chrome ore stocks at port? How to reduce the inventory pressure of high - priced ore? If the downstream stainless steel companies continue to cut production, and steel mills keep cracking down on the ferrochrome plants, where should the new ferrochrome capacity go? With the market changing rapidly, will this year's chrome products market present a new situation due to de-capacity and de-stocking? Let's welcome Ms. Liu Junhua, from FerroAlloyNet makes a speech-- Chrome Products Data Review in 2016-2017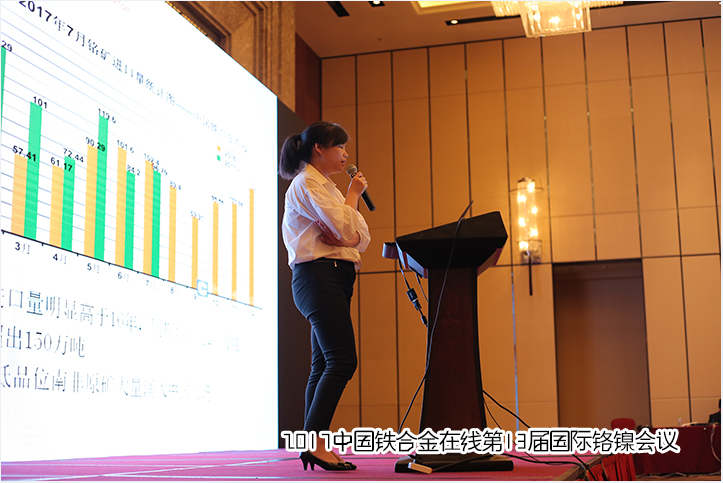 Zimbabwe Chrome Ore Investment & Cooperation Forum, Since the Zimbabwe chrome ore exporting policy opened, according to the customs data, China has imported 84,431 tons of Zimbabwe chrome ore in 2016, and 176,039 tons of Zimbabwe chrome ore between January-June, 2017. The import amount has grown sharply. In consideration of China paying an increasing attention to Zimbabwe chrome ore investment policy and environment, FerroAlloyNet, Zimbabwe Ministry of Mines and Mining Development and Spring Stone International Co., Ltd. (Hong Kong) organize a Zimbabwe Chrome Ore Investment & Cooperation Forum for chrome industry insiders so as to have an in-depth analysis on Zimbabwe chrome ore investment policy and environment.

In the answer session of this forum, the representative of the meeting raised the following questions: 1. what is the annual production of chromite in Zimbabwe? What are the main mines and exporters? 2. Zimbabwe dollar, U.S. dollar and RMB payment and settlement issues. 3. Cost of chrome ore mining in Zimbabwe. 4. Annual production and market conditions of ferrochrome in Zimbabwe. 5. Local transportation and shipping in Zimbabwe.
All these questions are answered by the Honorable Minister Fred Moyo, MMCZ manager Mr. Masinba, ZIMASCO General Manager MISS CLARA and Spring Stone International Co., Ltd. manager Chen.

The Zimbabwe Chrome Ore Investment & Cooperation Forum is supported by Spring Stone International Co., Ltd., let's welcome Ms. Li Xiaodan from Spring Stone International Co., Ltd. makes company introduction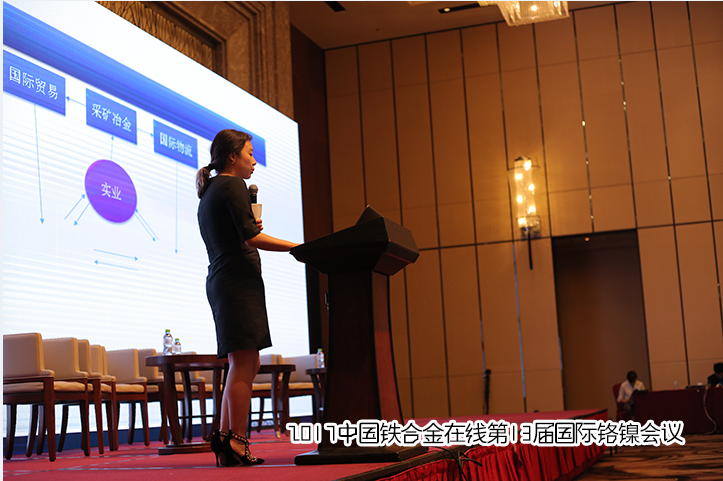 FerroAlloyNet was established in 2003, thanks to all the participating organizations for the long-term attention and love of our website. Special thanks to the supporters of this meeting: State Information Center Economic Forecasting Department Macroscopic Office, GALAXY FUTURES, Baosteel Stainless Steel Co., Ltd, Leshan Golden Bee Industrial Service Co. Ltd./Mingda Group, Inner Mongolia Kehan Metallurgy Co.,Ltd, Zimbabwe Ministry of Mines and Mining Development, Xiamen CCRE International Trading Co.,Ltd, Shanghai Garcia Industry Investment Co., Ltd., Noble Group, ArrowMetals, MMCZ